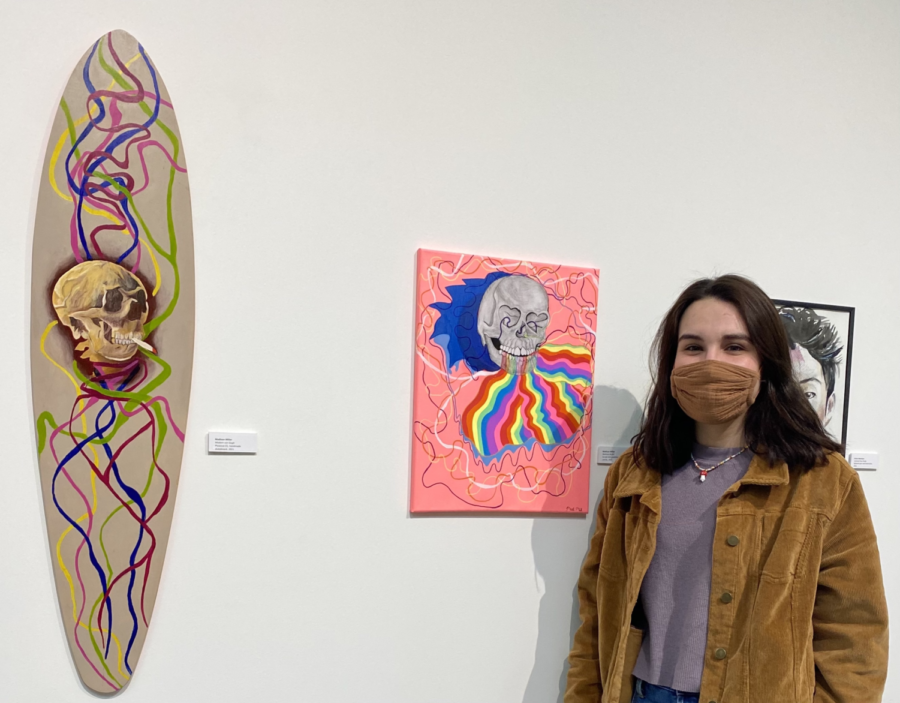 NEIU Artist Interview
April 29, 2022
What's your background and how do you think it has affected your work?
I became interested in art when I was 6 years old and my younger sister became very ill. As I spent a lot of time waiting and traveling back and forth from hospital visits, I kept busy by drawing and attempting to recreate the beautiful and colorful images I saw spread throughout the interior of the building. During the few years before my sister's recovery, I was introduced to art therapy and taught how to express my feelings through art which permanently influenced my body of work. Both my work as a child and my current work as a senior in college are a sense of an inner dialogue that happens within myself.
What type of art do you create and what motivates you to make it? 
The medium I focus on is painting, but I have also worked with mediums such as sculpture and drawing in my overall body of work. I create surreal and psychedelic works with a fluorescent color palette with imagery that expresses the thoughts that roam freely in my brain that feel far too complex for me to verbalize. Over the past few years I have struggled with mental health so a lot of my motivation to create these works come from the healing aspects that I experience when the piece is completed.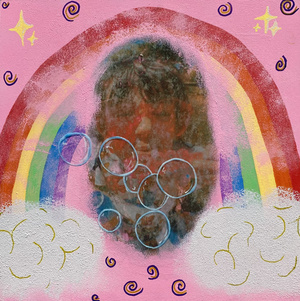 What's the purpose or goal of your work?
The goal of my work is to find clarity in my own mind and urge my viewers to explore within themselves. For as long as I can remember, I have always felt like my imaginative mind is so much bigger than words can speak. As I continue to practice this, the narrative happening in my head becomes more clear and gives me a sense of freedom from the thoughts tangled within.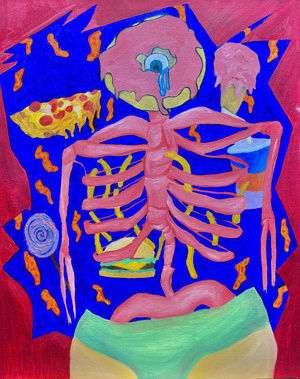 Who are your biggest influences? 
This may sound a bit cliché but I consider the biggest influence on my art career to be my grandmother. The first memory I can remember about my work was a picture I had recreated of Dora the Explorer and my grandma showing it off to everyone she possibly could. To this day she continues to show off my work, support me, and push me to the best of my ability. If I didn't have the type of positivity and push, I truly don't believe I would be where I am today. 
There are many people in the current art world who have also influenced my work such as Michael Reeder and Mel Cook. Both talk about the use of identity in their work and how it has helped them better understand themselves. They create their work in a similar bright fluorescent manner that catches the viewer's eye but also makes them question the imagery within. There is always a bigger message within their work and I aim to do something similar on my own.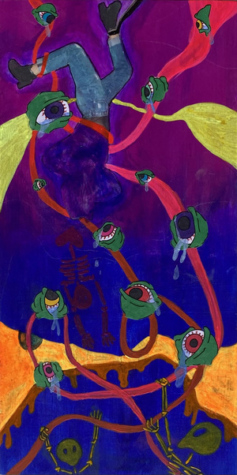 Where do you find inspiration?
I find inspiration in all different kinds of ways. When going into a new piece of work, I try to connect with different emotions and memories that can relate to the topic I want to explore. Recently I have noticed that I find a lot of inspiration from the children I surround myself with every week. Their imaginative and curious minds open me up to think about things a little more deeply. I have been a nanny for the same two children for almost two years now, and let me just say, these kids have some major artistic abilities. As I inspire them to keep creating when they want to give up, they do the same for me while also giving quite the influence on my child-like aspects within my work.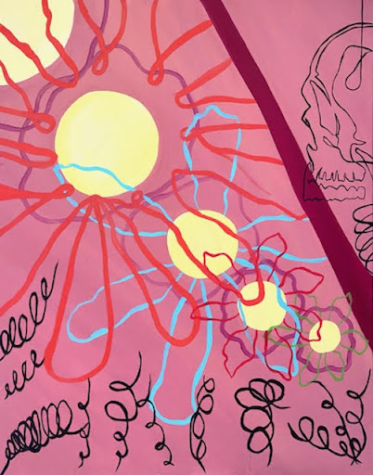 If you could give one piece of advice to another artist trying to navigate their way in the artworld, what would it be?
One of the biggest pieces of advice I would give to another artist trying to navigate their way in the artworld is something I just started to do and regret immensely for not starting sooner. Writing about your work and the process will help you so much in keeping track of the path you are on in your artistic career. This past year I have started doing studio journal entries that started out as an assignment, and are now part of my regular practice. When keeping track of the things that worked in the piece and the things that didn't you are able to keep those in mind as you continue onto the next piece.
What are your handles, or contact information so people can check out your work?
You can check out some of my work and get more info by checking out my Instagram and my website! 
Instagram: @madmilart
Website: madmilart.com