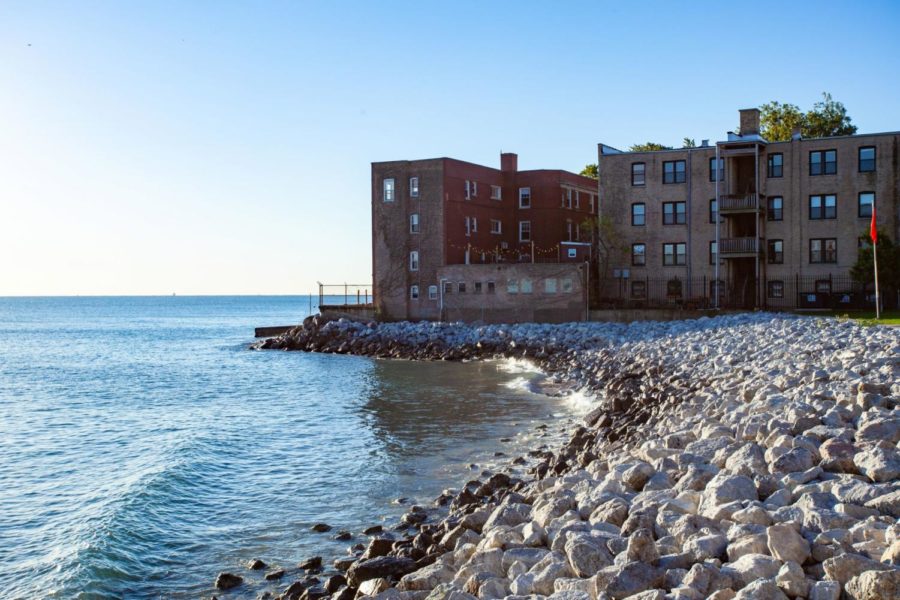 Howard Beach. A Climate Change Cautionary Tale.
December 15, 2021
Howard Beach, located along the north shore of the city, has always had a personal significance to me. It was where I met Lake Michigan—and really, the beauty of Chicago—for the first time seven years ago on a freezing but sunbathed Christmas Day afternoon. The lake was peaceful that day. Its waters were dark blue since dusk was slowly looming ahead and thus, the clear blue winter sky was already yielding to the ruby sunset. People were playing with their dogs, some kids were playing with a remote-controlled car for the first time and another group of kids were trying to fly a kite.  A myriad of colors enveloped the sky as my wife and I observed the people enjoying the beach. We decided at that moment to participate in the fun and dipped our bare feet in the cold waters of the lake. It was a magical moment that connected us with the soul of Chicago and that I will always cherish because it was on that day that I fell in love with this city.
Sadly, I can no longer recreate that experience.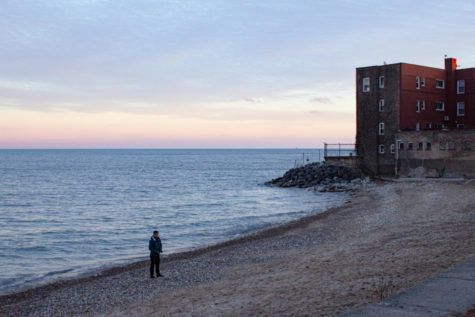 The lake swallowed Howard Beach after a devastating storm in the winter of 2019 that also vanquished Rogers Park beach. All of the Chicago Park District facilities on site suffered damages, and the Army Corp of Engineers had to put rocks down as a temporary remedy to the rising levels of the lake. 
Rising water levels is not an issue that only affects Rogers Park. As a New York Times piece reports, rising water levels of Lake Michigan have become a peril for the city. Some neighborhoods in Chicago's South Side flooded in the 2019 winter storm; the basements of houses and condos filled with water, and the defenses put up by properties on the lakeshore barely held against the volume and the violence of the waters. Some residents reported to the New York Times that on the South Side's lakeshore these kinds of events used to happen every four decades, but now they have seen their properties flood every other year.  
Humans are the culprits of the progressive loss of Chicago's lakeshore. First of all, the city of Chicago, or at least its downtown, exists due to the ingenuity of its inhabitants. Chicago was built over a swamp that offered the possibility of connecting the Great Lakes with the Mississippi River. To preserve this feat of engineering, the city constantly invested in water management. Riverbeds were modified, canals were dredged, water reservoirs were created and lakefront barriers were  erected in order to keep the city dry.
Eventually, all these efforts of Chicago's authorities to keep the city dry will go to waste. Over the last half century, we have altered nature in a way that makes it unpredictable and, in effect,  does not allow us enough time to take effective measures to protect the city from flooding and wastewater. 
The rosy prospects presented to the public by Chicago's alderpersons, like Rogers Park's Maria Hadden, of recovering part of Chicago's lakefront within three or five years had collided with the realities of a looming environmental disaster and Washington's muddy, uncompromising politics.  
Global warming is changing the speed in which glaciers melt in Canada, so more water drains into Lake Superior and subsequently into Lake Michigan. Then, an over capped Lake Michigan floods neighborhoods and homes, destroying public property and parks on our lakefront and in lakeshore towns as far as Ludington, Michigan. 
As you can see, the problem is not particularly local, although it has local and personal consequences for many of us. If humanity does not stop emitting greenhouse gases, and if we do not refrain from cutting down our forests, we will reach a point where the lake will reclaim even more of its old lakebed, and it will eventually reach its former volume, which is roughly nine feet of water above today's level.
There is a possibility that we will not have to wait twenty or fifty years to see more catastrophic consequences of our ways of living in the environment and, mostly, in the spaces we populate. I have not lived all my life in Chicago, and yet, I have seen three beaches disappear in front of my very eyes. When I shot the photos for this piece, I could not even stand in the same spot where I took my first picture of the lake seven years ago. The rocks that were placed by the city to protect what is left of the beach park are uneven and cliff-like, so it is very difficult for people to get there or even to stand up close to the water. After that devastating storm back in the winter of 2019, Alderperson Hadden said, "The lake had spoken." If nothing changes, we will keep hearing more of it.