NEIU students and alumni discuss working during the COVID-19 pandemic
May 11, 2020
Northeastern Illinois University announced via a targeted announcement email that students can submit photos, videos, writing, journal entries, artwork, photos and more to document how they have been affected by the COVID-19 pandemic. 
The Independent spoke to NEIU students and alumni to discover how COVID-19 impacted the lives of the NEIU community.
Maria  Flores, NEIU 2020 graduate 
Hostess at Lou Malnati's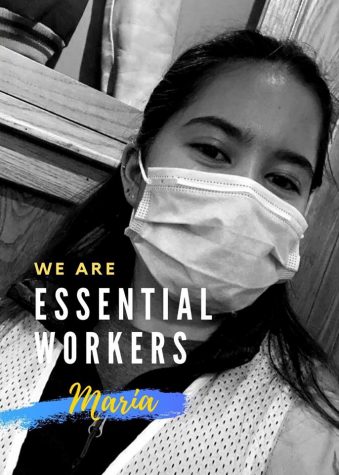 "I feel like I'm actually making a difference when I am helping  people in every little way that I can. Although I can't physically help customers, I know I can make their day better by handing them their food. So, I've witnessed joy from customers while working, and It makes me feel better about working in the midst of the outbreak. 
"Most of my family isn't really working now. My dad is a police officer, so my dad and I are the only ones in our family working. We worry that we might bring the virus home, so we sanitize everything from washing our clothes to washing our hands. Right now, I am working at Lou Malnati's, and we shut down the dining area. We are doing delivery only like a lot of other restaurants, so the layout of our restaurant has changed. I haven't seen my boyfriend in a month because his parents are older, and they're more susceptible to getting the virus. Work is the only thing that keeps me busy and distracted from what's happening in the world."
---
Sean McLennan, NEIU senior
Beer buyer/ specialty team member at Whole Foods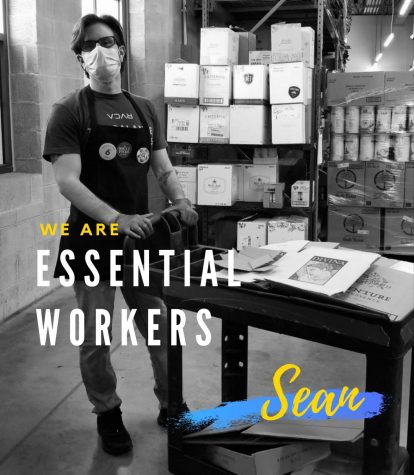 "It's been a rollercoaster ride, a very scary rollercoaster ride. Initially, when the outbreak happened, stress levels were extremely high. I was caught between not wanting to call off work or potentially being exposed to COVID-19 while working. Luckily for me, Whole Foods has been very helpful in allowing us to self-quarantine and call off as much as we need. 
"Whole Foods is taking safety measures such as providing gloves, masks and placing social distancing lines on the floor. The company has made it fairly easy for us to take the precautions we need, but it is still very scary. The possibility of getting the virus or giving it to a loved one is extremely high.  I learned that we all need to slow down and that we as humans have quickly become very adaptable given such dire circumstances. We can provide new ways of service, new ways of communication and new ways of connection. A lot of the things that may have been taken for granted like time with family and friends, is now certainly cherished more than ever.  I have to spend most of my day convincing myself that my dry throat isn't the virus and that my headache isn't the virus. The best thing I can do is control what's in my power by washing my hands, wearing a mask, wearing gloves and practicing social distancing."
---
Diana Quizhpi, NEIU Alumna 
Case manager at SMRF Facility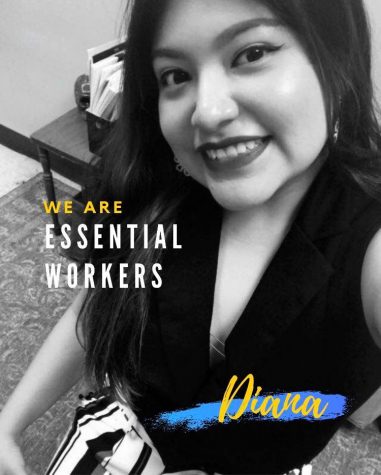 "I work in a [Specialized Mental Health Rehabilitation] facility helping patients with severe mental illnesses to become independent and live on their own. We teach them medicine compliance, and I am a case manager there. We are required to wear face masks and scrubs to work. Our patients live there, so they take turns going outside the facility and staying in their rooms for most of the day to lessen contact. I monitor behaviors and provide counseling to patients. As a case manager, I manage and help them in their treatments by making care plans.  I work with them to ensure when they leave they will have all the tools they need to live on their own. I've worked there for six months, and I love my patients. My job has given us raises for working in the facility during these times, so everyone at my job has been caring. We have had patients get sent out with high fevers, so it makes me more wary when I see them and interact with them. But the patients are super understanding of what's happening during the outbreak, so they understand when we meet, 6 feet apart is a must.
---
Katie Kendall, NEIU junior
Unit secretary at behavioral health hospital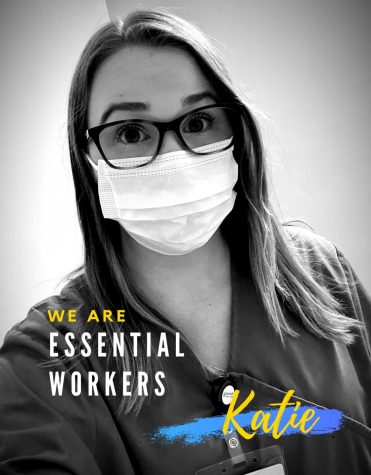 "There are screening measures before the start of shifts in person and online. Employees are provided a mask every shift. There are so many precautions in place and vigilant monitoring. My position doesn't really help people. The honor should be for the nurses, doctors and mental health professionals that have an impact on the people they provide care for. I am just glad to be useful during this time. The anxieties I think may exist in my job are staff worrying for their/our families, friends and the community at large. But we are doing all that we can do to prevent the spread of [COVID-19].  I am honestly so grateful to be employed and have an income where there is so much instability in the world. I know I am so fortunate, and I try to be aware of that. It's a privilege to feel useful in a time that feels so helpless and hopeless."
All entries submitted to NEIU will be featured in The University Archives. Submissions must touch on remote work, remote learning and daily routines during the COVID-19 pandemic. All material files should be in PDF, JPG, MP3 or MP4 formats and should not exceed 100 megabytes. 
To submit materials, visit the Sheltering in Place: NEIU Archives COVID-19 Documentation Project project page.