'Halloween (2018):' The Legacy Continues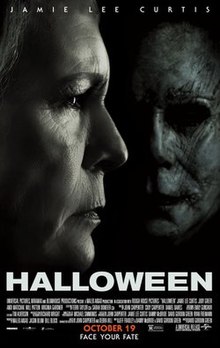 Halloween came and left but that doesn't mean it's too late to enjoy a nice horror movie."Halloween (2018)"  has arrived just in time to put a little bit of fright in your life. "Halloween",which is not to be confused with the original "Halloween (1978)" nor confused with the 2007 remake, acts as the direct sequel to the original 1978 "Halloween."

The film centers once more around the infamous Michael Myers, except forty years passed since Michael's last spree due to his confinement in a rehabilitation center. On the night of Halloween, Myers escaped and is in search of Laurie Strode, who spent the last forty years prepping for Michael's return.

In my opinion,  "Halloween (1978)" was a great film and that is thanks to its director John Carpenter and his vision. I am glad to say that John Carpenter is back this time as both a producer and composer for the film, leaving the directing to David Gordon Green.
Green does an excellent job bringing his own vision to the series while also capturing Carpenter's vision. For example we never see too much gore in the film, much like the original. The film doesn't focus on the deaths of the characters but instead shifts its focus towards the suspense surrounding the deaths.
Often throughout the film I would think to myself, "This is it! Michael is going to pop out and attack." But no, the film knows when to drag out the suspense and provides plenty of misdirections so that when Michael finally pops out, you'll scream alongside the actors.  

While the scare tactics are great, the best part of the film is its score. John Carpenter returns to this film as its composer and  brought along his son Cody Carpenter and godson Daniel Davies to update the original score without losing its spirit. There is something about the Halloween theme that no matter how many times you listen to it, your body can't help but be on edge, as if you were the one being chased by Michael.

Overall "Halloween (2018)" goes back to its roots and we are met with delightful frights that are perfect for this Halloween season.
"Halloween (2018)" is a great horror movie to watch and is a delight to watch whether you are a new or old fan of the "Halloween" franchise. The film is currently still in theatres, so get yourselves a ticket and prepare to be spooked.